-22%

Zoom the image with the mouse
SUMMER WIND 2021 New Portable Hanging Neck Fan
The best outdoor fan brings you cooling, chilly breeze during this hot summer. 
Keep cool as you travel, go camping or attend a concert during a hot summer day with the hands-free portable cooling fan. You can hang the fan on your neck and watch movies comfortably as you lay down or do anything else.
The soft flexible foams protect your neck from any discomfort. Small but efficient when operating, the portable individual fans make minimal white noise and makes it easy to use anywhere, no matter indoor or outdoor.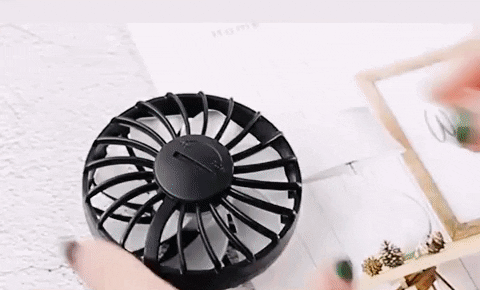 Perfect for summer indoor or outdoor activities. Such as makeup, camping, picnic, sports, soccer and baseball, climbing, fishing, golf, beach, workplace,office, travel etc. So you can always enjoy the cool summer.
😎COOLER ANYWHERE 
The USB rechargeable, battery operated neck fan comes, the company that has made it its mission to produce super cool products that solve annoying, everyday problems. With 3 speeds, two 7-blade fans and an adjustable neck band it is perfect to wear outdoors, at work, at a ball game, jogging, working out, playing sports, at the beach, at a festival, hiking, traveling, in the office and more.
🔋STRONGER BATTERY – LONGER WORKING HOURS 
SUMMER WIND 2021 New portable hanging neck sports fan has a 2500 mAh lithium battery for longer working hours. There aren't any personal fans that offer a stronger battery! Not only does this hands free personal fan work longer but it also features whisper quiet operation due to the improved 7 blade fans. The battery is rechargeable by USB. That means you can use a power bank, adapter, car charger, laptop, computer and more.
💡THREE IN ONE – THE PERFECT DESIGN 
Take advantage of this SUMMER WIND 2021 New Portable Hanging necklace fan's unique headphones-like design to wear it around your neck like a neckband or change your portable neck fan to a handheld fan or even a desk fan! This battery-powered fan is great as a personal mini fan, a makeup fan, a desktop fan, an office fan, a travel fan, a summer fan and more. It's a must-have gift for men and women. It also has 7 LED lights that are perfect for night runs or even when the power goes out!
💫360 DEGREE ROTATION 
This around the neck fan necklace has 2 dual mini fans that can be adjusted 360 degrees to get that perfect cooling angle! Now you can have a cool wind blowing on your neck or face no matter where you are. This portable fan also features a comfortable, adjustable band for the perfect fit. Plus, SUMMER WIND 2021 New Portable Hanging Neck Fan made sure this strong neck fan is as lightweight as possible, which means you can wear it for a long time and it won't hurt your neck!
🎁THE ULTIMATE AROMATHERAPY GIFTS
Keeping with its reputation of providing extra value, SUMMER WIND 2021 New Portable Hanging Neck Fan is including with this long-running, lightweight, cooling double-fan aromatherapy pad. These scents can help you lower your stress level and relax. Click the add to cart button to get the best cooling device today.
PACKAGE INCLUDE
NORMAL VERSION: 1 x Normal Hanging Neck Fan 
UPGRADE VERSION: 1 x Upgrade Hanging Neck Fan (Contains aroma tablet inside, perfume not included)